Gate Receiver R5170
terminal block connection,self-learning function
Trade Assurance
protects your orders
Order protection service which protects online orders when payment is made through Alibaba's Trade Assurance.
Learn More
Trade Assurance reduces risks in:
If you have your own design, please contact us, there will have a professional customer service to communicate with you.
Don't have your files right now?No worries, Check out our art tips for more information.
If over 500pcs, mass production will start until pre-production sample has been approved.
Est. 7 days production
Product details
Certification
CE,FCC,RoHS
Channel
1
Code
open code
Connection style
terminal block connection
Frequency
433.92MHz
Latch/Non-latch
latch and non-latch switchable
Loading capacity
1A, 30VDC
Product size
6.0*3.5*2.2cm
Product weight
47g
Transmitters stored
30
Working temperature
-20 ℃ to 60 ℃
Working voltage
12 -24VAC/DC
Packaging & Delivery
Selling Units:

PCS
Single package size:

7 x 5.6 x 2.5 cm
Single gross weight:

43 g
Packing size:

48 x 33.5 x 22 cm
Packing gross weight:

10.5 g
Packing net weight:

7 g
Packing quantity:

210 PCS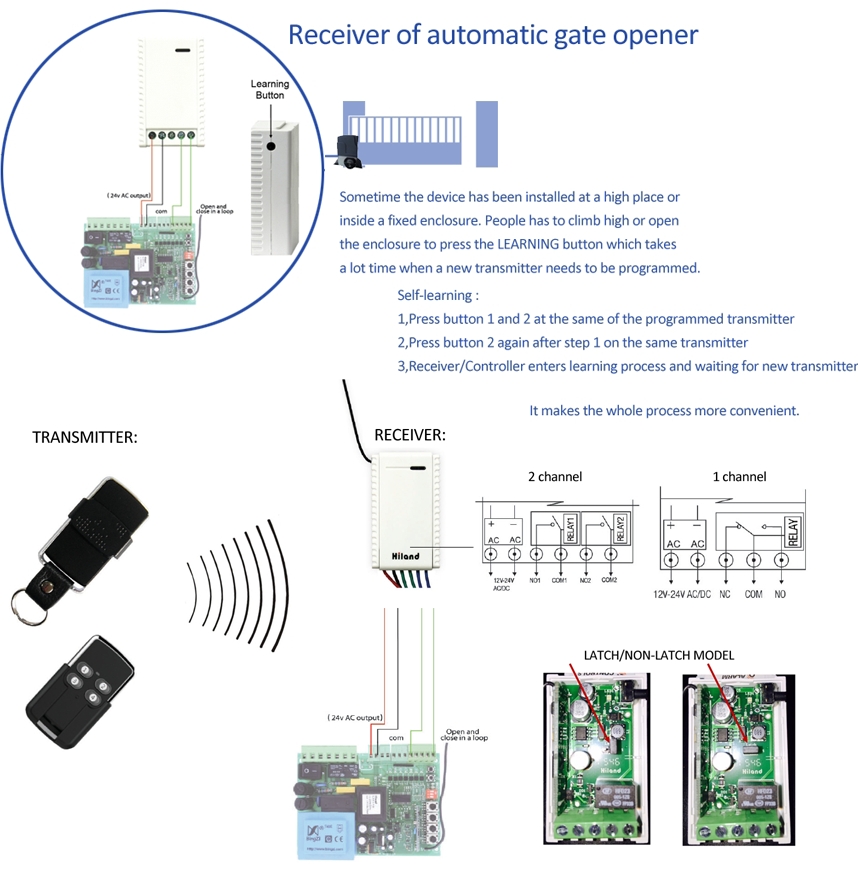 I. Safety Instruction
1. For security, please read instructions carefully before initial operation; making sure that the power is off before connection.
2. Please clear the memory before initial operation. (Ref: Erasing ALL learned/memorized Transmitters)
3. Do not learn the remote control when motor is operating in order to avoid mis-operation.
4. The received signal may be interfered by other communication devices. (e.g. the wireless control system with the same frequency range)
5. It is forbidden to control the high-risk coefficient equipment / system. (e.g. cranes)
6. It is used only for the manual remote control and wireless control equipment / system which must not endanger life or property
during running failure, or its security risks have been eliminated
7. It should be applied in dry indoor place or in the electric appliance place.
8. If connected wire is too long , the receiver may work unstable
II. Technical parameters
1. Working voltage:12-24VAC/DC
2. Temperature range:-20℃ to 60℃
3. Working frequency:433.92MHz
4. Stored transmitters: open code 300PCS
5. Relay contact load capacity::1A,30V DC
III. Set up and working process
1. Learning transmitter: Press the learning button S1 of the receiver, then LED is red. Press any one of the transmitter twice times, LED flickers and continues on several seconds, then turns into green. It is indicated the learning is successful.
2. Deleting transmitter: Press the learning button S1 for a long time, the indicating lamp is red for 8 seconds, and then turns into green,
release the learning button, LED is red for 2 seconds and then turns into green; it is indicated the deleting is successful.
3. Latch and non-latch: It's non-latch when no jumper on LATCH A, It's latch when there's jumper on LATCH A.
4. Self-learning function: Use the transmitter that already has been learned as mother transmitter, it can start the learning function and learn new transmitter without pressing any learning button. (Press button 1 and button 2 at the same time and then press button 2 to let the receiver enters into the learning process )
IV. Operation
1. Receiver can learn transmitter after pressing any button of the transmitter .
2. Only one button can be learned into the receiver for a transmitter. Eg:button 1 will be replaced if you learn button 2 after learning button 1.
3. Non-latch: Keep pressing the button, receiver starts working. Release the button, receiver stops working .
4. Latch: Press the button, receiver starts working. Press button again, receiver stops working .
HILAND TECHNOLOGY
OUR ADVANTAGE
Reseach and development
Export-oriented manufacturing enterprises, independent research and development, its own brand.
Advanced technology
Can be programmed to a variety of advanced products, to ensure the production of high quality.
Authority authentication
Have been approved by ISO9001-2008, CE(EMC,LVD,RF),C TICK,EN12978,ROHS,etc. strict requirements.
FACTORY PICTURES
CERTIFICATION SIGNS
No need register, just fill in contact info below, we will reply you within 24 hours!
Enter the code in the box below: